School resumption: A university already set resumption date (see it)
I know this sound untrue but a student told me that his school already sent a memo on when they are suppose to resume then i asked what the name of his school was he said southwestern university Ogun state. although some schools in Ogun haven't said anything I feel like it is more like a prediction that before that time school should be resuming already.
He told me that the registrar told them that they should prepare towards the date in case the school plans to open but they all wait for FG.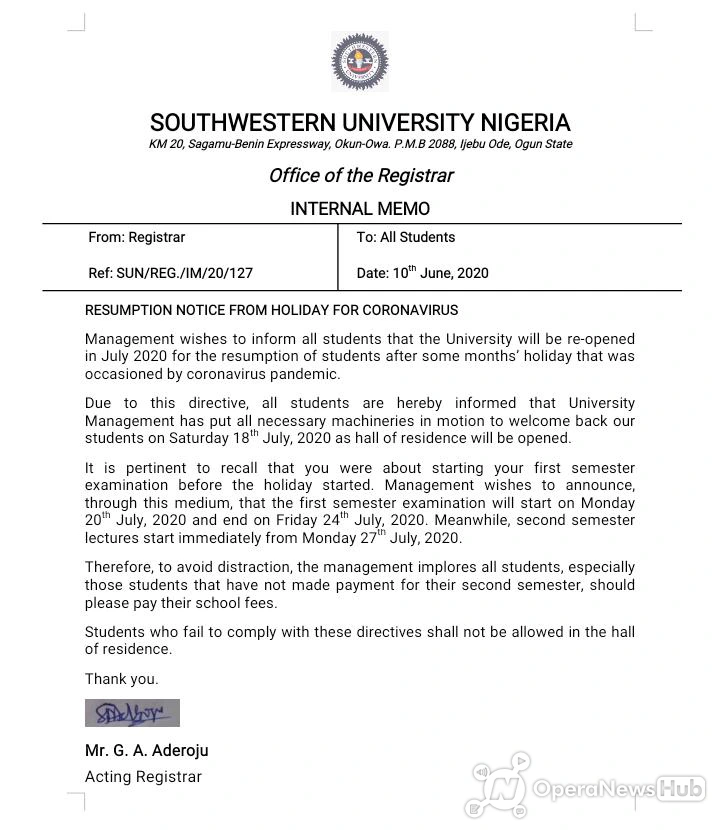 DO NOT RE-OPEN SCHOOLS (ASUU)
The Academic Staff Union of Universities (ASUU) has advised the Federal Government against reopening of schools at this time as the COVID-19 pandemic is still ravaging the country. The president of the union, Prof. Biodun Ogunyemi gave this advice while speaking with newsmen in Ota Ogun State.
The ASUU president listed the conditions spelt out by NCDC to include: provision of materials for regular washing of hands, face mask, isolations centres, space for social distancing and hands sanitiser; adding that many of the schools do not have financial capacities to meet those conditions and requirements for reopening of schools as many of them do not even have running water, do not have enough spaces to promote physical distancing not to talk of having facility for washing hands.
The ASUU president said that putting all these requirements needed together, to reopen schools in the country now would run to millions of Naira, which most schools could not afford.
Ogunyemi appealed to the Federal Government to provide the running funds for the principals and head teachers so that they could provide some of these facilities in their schools.
According to him, the Federal Government needed to address the challenges of the education sector, provide an ideal environment and meeting the conditions spelt out by the Nigeria Centre for Disease Control (NCDC) before reopening schools
Schools have started announcing the sale of their post utme forms for 2020. Below is the list of schools that have announced so far.
University of Uyo (UNIUYO)
Ambrose alli university (AAU)
University of calabar
Ebonyi state university (EBU)
Petroleum training institute (PTI)
Imo state polytechnic
LIKE COMMENT FOLLOW
GOD BLESS YOU
PEACE