The 2020 N-Power scheme registration is out and lot of people are flooding the site to extent people that registered on fist day of opened are advised re-register due to it been invalid.
Many are worried and confused about the closing date of the program and got them released their statement about the closing date of the scheme.
N-Power's portal was opened to the general public on June 26th, 2020 but the official of the program said all that registered on the day of opening should register again due to one issue or the other which raised on the website.
The N-Power scheme was created by the federal government of Nigeria to reduce the rate of unemployment in the country and aiming to help lot of unemployed youths during and after school.
The Warning laid down for registration of the program is that, 'you must have no source of income'.
Also, serving corp member of the National Youth Service Corp (NYSC) are advised not to apply for the ongoing program registration.
Follow the update and questions & answers thrown by the public, the N-Power via their official twitter account @npower_ng answered a user who asked when the registration would close.
Fortunately, they are no such. No closing date for the program at the main time.
The user @kolacious2 asked: "Plz when is the closing date?"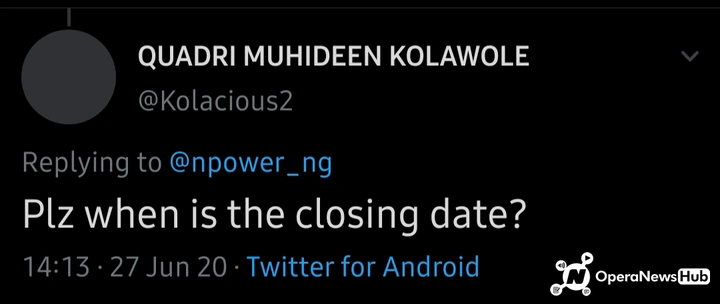 N-Power @npower_ng replied with: "There is no closing date for now, the portal is still very much open."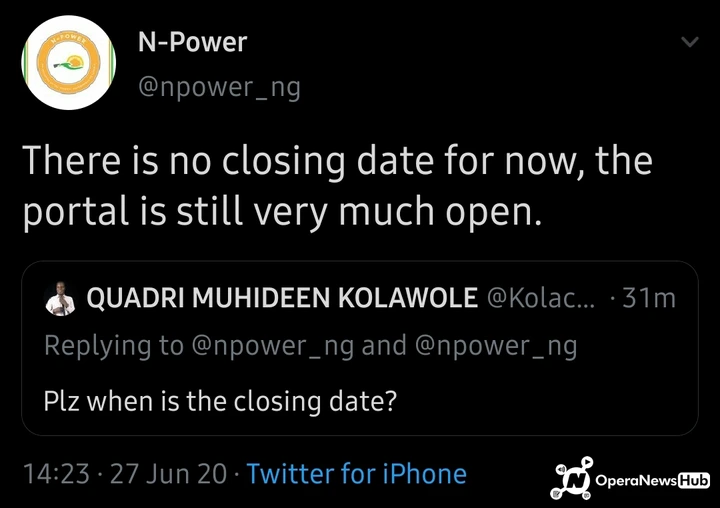 This have got lot of people reacting and saying what they have in kind about the program. Here are some people's reactions, questions and answers.